Natural

flea & tick repellent for Dogs

              
Organic sustainable ingredients
Non-Toxic
Safe & Effective
Clean Fresh Scent
Biodegradable
BaciNaturals flea & tick repellent is a safe alternative to  chemical treatments. Safe for your dog but deadly to fleas and ticks.
Parasites are more than a nuisance. They can result in health issues from allergic dermatitis to tick-borne illnesses.
Most of us are familiar with  commercial flea/tick treatments. They typically contain harmful toxic chemical pesticides. The directions on these products warn you to use gloves. And "avoid contact with skin". Yet it's being applied directly to your dogs skin!
We provide parasite protection without compromising your dogs health.
Natural & Effective Protection:
Bacinaturals Flea & Tick repellent is made with all natural organic ingredients. It contains a select blend of pure essential oils: Peppermint, Lavender,  Lemongrass and Eucalyptus. Every ingredient has been carefully selected for safety and maximum effectiveness.
For example:
Lemongrass is a proven flea and tick repellent.
 Lavender oil is uniquely calming yet toxic to fleas and ticks.  A 2007 study found that formulas containing diluted lavender performed as well as DEET.
 Peppermint oil: invigorates and stimulates circulation. It also  contains menthol which kills fleas and tick by destroying their nervous system.
This Repellant has a Organic Coconut oil base. This does wonders for a dogs skin and coat. Calendula Oil is known for its "skin repair/healing" abilities. It's used to treat hot spots.
We take a safe Holistic approach. Bacinaturals Organic flea & tick repellent has a natural clean fresh scent which is also deodorizing.
Directions: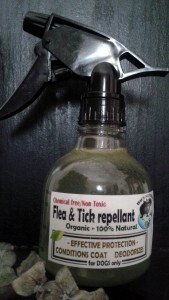 Simply spray a light mist onto dogs coat. Avoid face, eyes, inner ears and mouth. Rub gently into the skin before venturing outdoors.
Added Protection: Carpets and humid areas are also favorite areas for fleas. When fleas lay eggs on a dog, some eggs can fall off and hatch on your carpet, bed, or other furniture. Lightly spray this product  onto these areas for added protection. 
* Please note: This product is intended for use on DOGS only.(not cats or any other animals. Cats cannot metabolize essential oils).
*(Do Not use on puppies under 10 weeks old, pregnant dogs, or lactating dogs)