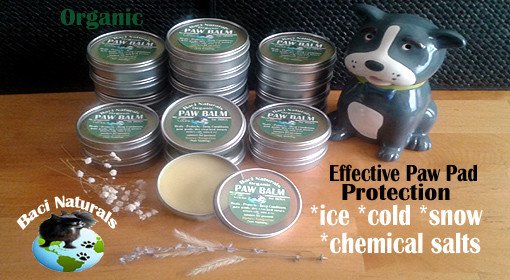 TAKE 10% OFF.. USE COUPON CODE: PAWZ10
Organic

Paw Balm
**This product is for Dogs only
*100% Natural * Eco friendly * Non Toxic * Chemical Free * Non staining
( Deep Conditions Dry/Cracked Paws & Nose)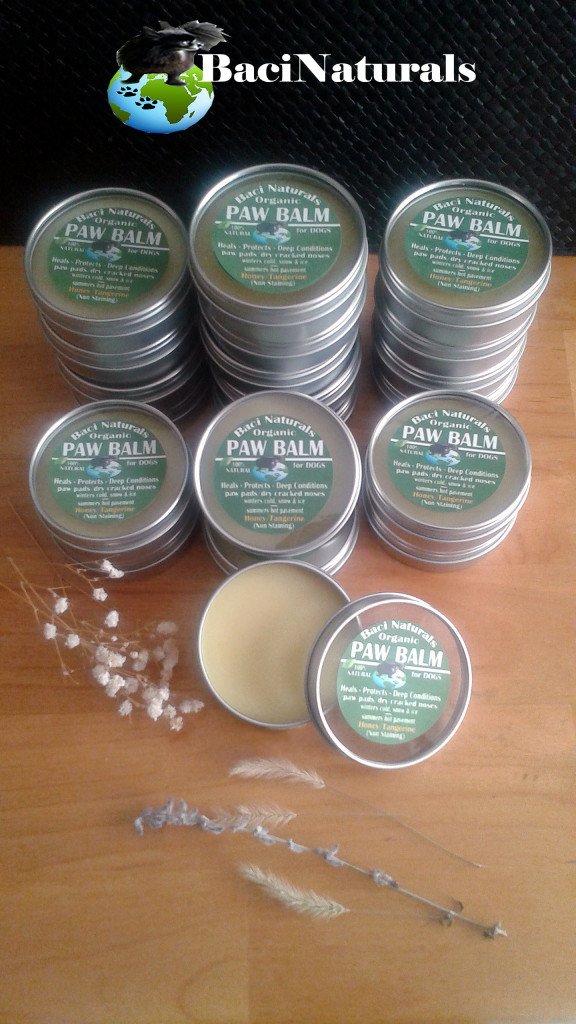 Provides a protective barrier from:
 Ice 
 Cold temps
 Snow
 Chemical salts
 Summer: hot pavement  
 Winter can be especially harsh on a dog's paw pads. Exposure to cold weather, snow, ice, and salts can dry pads out.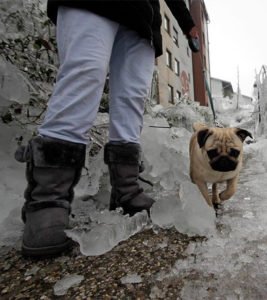 This can result in cracking, peeling, and frostbite. From frigid ice covered pavement to hot summer asphalt. Your Dogs' pads benefit from protection.
PAW TIPS:
Tip #1: Make sure to clip excess hair from paw pad. This will help prevent ice balls from forming  around the paw pads. Ice balls can be painful. (This also makes it easier to apply the balm to the pads).
Tip #2: Keeping the nails trimmed is especially important in the winter. Long nails force the paw to splay out. Snow and ice  then accumulates between the paw pads.
SUMMER PROTECTION
Summers hot pavement can burn dried pads. This results in painful burns. So avoid hot pavement and make sure your dogs pads stay moisturized..
HUMAN GRADE INGREDIENTS
This is a richly nourishing & healing Organic Paw Balm. Packed with antioxidants which penetrate & nourish the pads. Combines the pad healing protective power of Organic Coconut oil, Organic Calendula, Rosehip seed oil and Pure Vitamin E.
BaciNaturals Organic Paw Balm is made with a blend of the finest skin nourishing/protective human grade ingredients:  100% Pure Organic Beeswax, Organic Virgin Coconut oil, Organic Calendula, Organic (Grade A) Raw Honey, Organic Burdock root,100% Pure Vitamin E, Organic Rosehip Seed Oil, Organic Arrowroot, 100% Pure Organic Tangerine essential oil
* Non staining * Not Greasy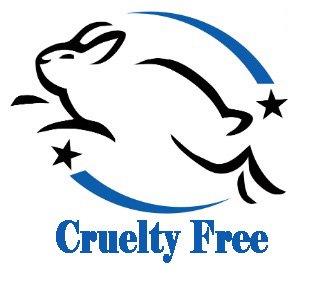 Directions for use: Make sure to clip hair as needed to ensure hair between pads is short and even with the pad. Apply a modest/even layer of Balm to pads and in between toes just prior to going outside. Reapply as needed during extended walks. After the walk, gently wipe your dog's paws with a soft warm washcloth to remove snow, ice and ice melt. Apply another thin layer of balm to soothe any irritation and keep the pads supple and conditioned. Store Balm in cool dry area away from heat and sunlight.
* This product is for Dogs only.. Not intended for Cats (since this product contains essential oils- which cats are unable to metabolize)
Photo Credit to East Bay SPCA Veterinary surgeon · Animal shelter